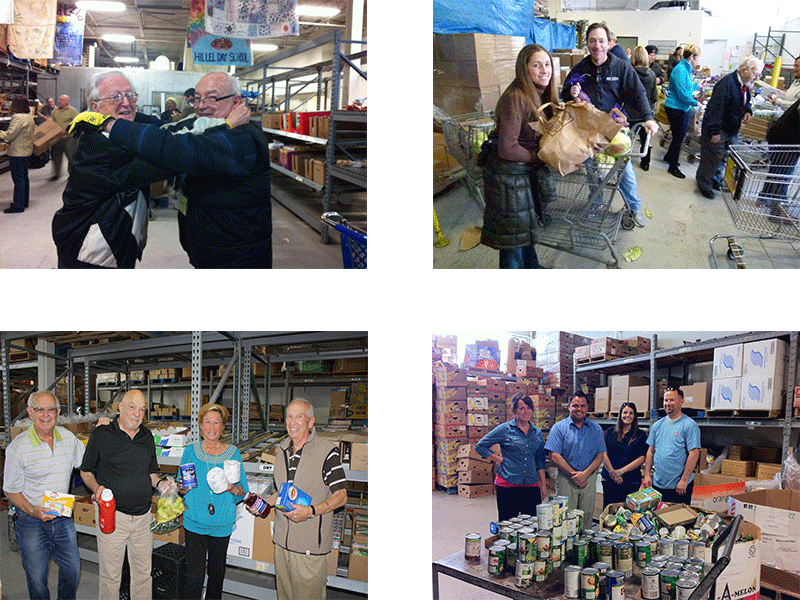 Yad Ezra is a volunteer-driven organization. Our small staff of six relies on a dedicated volunteer corps of 125 individuals who regularly give their time, energy, talent and expertise to assist the clients and staff in all areas of the food pantry's operation.
Interested in volunteering? Want to bring a group to volunteer? Contact our client/volunteer coordinator, Darlene Rothman, at [email protected] or call the office (248) 548-3663.
'Hands On' Volunteer Opportunities
Food Pantry
Assist clients through the food pantry.  Sort, shelve and stock food in the warehouse.
Time commitment: weekly, or as available.
Client Intake
Assist clients in completing Yad Ezra shopping list. Basic computer entry.
Time commitment: weekly, or as available.
Russian Speaking Volunteers
Assist in food pantry and client intake
Time commitment: weekly, or as available
Giving Gardens
Assist in our educational garden and greenhouse on Sundays with basic garden maintenance.
Contact

[email protected]

for more information.
General Office Work/Receptionist
Assist with basic clerical work
Time commitment: weekly, or as available
Sunday Deliveries
Be "on call" to make Sunday deliveries.
Time commitment: from 11:00 a.m. – 1:00 p.m.
MiCafe (Michigan Coordinated Access to Food for the Elderly) Volunteer Training
Special computer training is required to assist Oakland county seniors (age 60 and over) register online at Yad Ezra for SNAP (Supplemental Nutrition Assistance Program) formerly know as food stamps.
Time commitment: appointment based
Volunteers must be computer literate.
Weekly Volunteer Opportunities
Sunday: Noon-2pm, 10am-12pm at Giving Gardens
Monday and Wednesday: 10am-12pm
Tuesday and Thursday: 6pm-8pm
*Volunteers must arrive approximately 15 minutes before the session begins
Parking is on the west side of the building. Please enter off of Robina Street in the door that says "Volunteer Entrance."  (Children under 16 years old, must be accompanied by an adult)
Special Highlights of Yad Ezra's Calendar
Passover Distribution
Yom Kippur Food Drive
Volunteers are needed to help pick up, weigh, sort, box and shelve donated food from more than 20 synagogues and organizations.
Annual Dinner
New Projects
Behind The Scenes Volunteer Opportunities
Fundraising Committee
Work on a committee to help raise funds to support the organization through special events or projects, direct mail, solicitations, endowments, grants, memorial funds, etc. Time commitment: once a month meetings, or as needed for specific effort.
Data Entry
Do basic entry using our database software. Time commitment: weekly, or as available.
Newsletter
Work on production of our quarterly newsletter — gather information, write articles, etc. Time commitment: as needed.
Public Relations
Be a part of a "Speakers Bureau" and go into schools/organizations/groups to talk about Yad Ezra. Volunteers are needed to write press releases and contact local newspapers and/or television stations about covering Yad Ezra. Time commitment: once a month, or as needed.