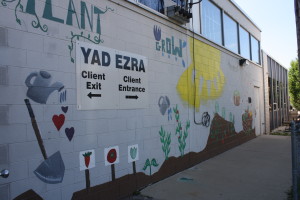 PLEASE KNOW THAT ALL OF YOUR PERSONAL INFORMATION IS CONFIDENTIAL!
Families or individuals seeking assistance should come to Yad Ezra during Hours for New Clients. You can fill out the application online and bring it into Yad Ezra. A volunteer at Yad Ezra will be happy to help you complete the application when you arrive.
Location:
2850 W. 11 Mile Road, between Coolidge and Greenfield, on the north side of the street. Enter the client parking lot off Robina (just west of our building). When you first visit, please let a volunteer in the client intake room know that you are a new client.
Hours for New Clients:
Monday and Wednesday: 10:00 a.m.-11:00 a.m.
Tuesday and Thursday: 6:00 p.m.- 7:00 p.m.
What to Bring:
1. Clients will complete and sign a form, confirming all adults in the household and monthly gross income.
Please call the office for further information (248) 548-3663
2. Photo ID for YOURSELF AND EVERY ADULT in the household
Driver's License, or
State ID, or
Passport
3. Social Security Cards, or Birth Certificates, for EVERY household member, including children.
4. Dates of birth for EVERYONE in the household.
We offer referrals to other agencies (Jewish and secular).  Call (248) 548-3663 for more information.