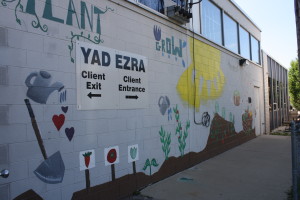 Due to the COVID-19 Pandemic our application process has changed. Please note the current process below.
PLEASE KNOW THAT ALL OF YOUR PERSONAL INFORMATION IS CONFIDENTIAL!
Families or individuals seeking assistance should complete a New Client Application and submit it to Yad Ezra. You may download the application below and email it to our office (Email: [email protected]). You may also drop the application in our New Application Box by the front door of our building, or mail it in.
If you have questions about the application, please contact our Client/Volunteer Manager, Darlene at  (248) 548-3663 or [email protected].
Location:
2850 W. 11 Mile Road, between Coolidge and Greenfield, on the north side of the street.
Additionally, we offer referrals to other agencies (Jewish and secular).  Call (248) 548-3663 for more information.